Hola
Hace tiempo quería publicar estas 11 ya famosas "reglas de  Bill Gates".  Aunque hay muchísimas páginas que hablan de ellas y este blog no se caracteriza por imitar entradas famosas, recurrentes o muy vistas en otros blog, decidí arriesgarme ya que el mensaje que dan sigues estando de actualidad y creo que seguirá estando por tiempo. Estas son la reglas que atribuyen a Gates.
"Las 11 reglas de Bill Gates"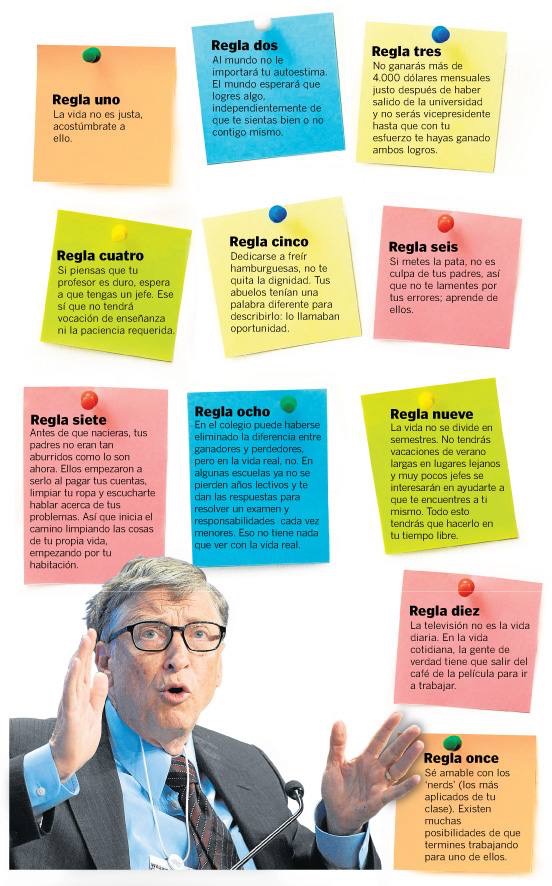 La vida no es fácil, acostúmbrate a ello .
El mundo no está preocupado por tu autoestima. El mundo espera que hagas algo útil por él ANTES de sentirte bien contigo mismo.
No ganarás 20.000 $ al mes nada más por salir de la escuela.  No serás vicepresidente de una empresa con coche y teléfono a tu disposición, hasta que con tu esfuerzo hayas conseguido comprar tu propio coche y teléfono.
Si crees que tu profesor es duro, espera a tener un Jefe.  Ese sí que no tendrá vocación de enseñanza ni la paciencia requerida.
Vender papel usado o trabajar los días festivos no es ser lo último en la escala social.  Tus abuelos tenían una palabra diferente para eso: lo llamaban oportunidad .
Si te equivocas, no le eches la culpa a tus padres o a la mala suerte. Por lo tanto no lloriquees por tus errores, aprende de ellos.
Antes de nacer tú, tus padres no eran tan críticos como ahora. Ellos se volvieron así por pagar tus cuentas, lavar tus ropas y oírte decir que son "ridículos". Por tanto, antes de salvar el planeta para la próxima generación, queriendo remediar los errores de la generación de tus padres, comienza limpiando las cosas de tu propia vida, empezando por tu habitación .
La escuela puede haber eliminado la distinción entre excelentes, buenos y regulares, pero la vida no es así.  En muchas escuelas hoy no repites el curso, hacen que tus tareas sean cada vez más fáciles y tienes las oportunidades que necesites hasta aprobar. Esto no se parece en nada a la vida real. Si fallas, estás despedido . Así que acierta a la primera.
La vida no está dividida en bimestres. Tú no tendrás largas vacaciones de verano y no encontrarás quien te ayude a cumplir con tus tareas, ni jefes que se interesen en ayudarte para que te encuentres a ti mismo. Todo esto y mucho más, tendrás que hacerlo en tu tiempo libre .
La televisión NO es la vida real. En la vida real, las personas tienen que dejar los juegos, el bar, los bailes o los amigos, para irse a trabajar .
Sé amable con los estudiosos (Be nice to nerds). Existen muchas probabilidades de que termines trabajando PARA uno de ellos .
El Problema: ¡ Las Reglas no son suyas !
Siempre que me documento intento contrastar la información y al poder ser llegar a la fuente, aunque muchas veces difícil en este mundo de desinformación, en esta ocasión me llevé la sorpresa de que están mal atribuidas a so persona, ha sido un gran OAX, pero tan sutil que se ha convertido en leyenda urbana. Puedes encontrar infinidad de leyendas urbanas de Bill, por ejemplo en esta página urbanlegends.about.com = bill+gates.
El autor real: Charles H. Sykes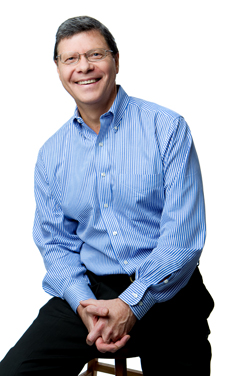 El autor real era un miembro de la Wisconsin State Assembly, vivió entre 1881 y 1966 y escribió un libro del que hablaba sobre los alumnos y de como en el curso, aunque se sienten bien pero el ambiente "políticamente correcto" ha creado una generación de niños sin concepto de la realidad y los predispuso para el fracaso en el mundo real.
Entonces describía una lista de cosas que los graduados no aprenden en la escuela y esta lista de cosas son las famosas reglas que él recordaba y compartía en las graduaciones universitarias y de escuelas secundarias. Este escritor escribió otros libros pero este, el titulado: 50 Rules Kids Won't Learn in School, es el que contiene las 11 reglas.
Las 50 reglas que no aprenderás en la escuela
No cuesta tirar un poco del hilo y sacar la verdad. Podemos encontrar el libro de las 50 reglas original aquí:  www.the50rules.com.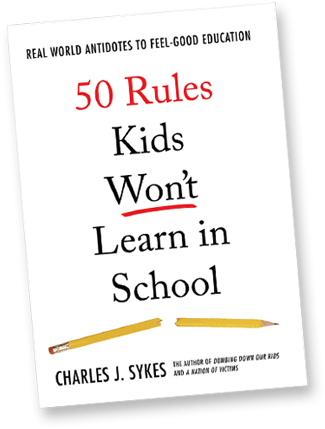 Estas son las 50 reglas que los chavales no aprenderán en la escuela:
Life is not fair. Get used to it.
The Real World won't care as much as your school does about your self esteem. It'll expect you to accomplish something before you feel good about yourself.
Sorry, you won't make $60,000 a year right out of high school. And you won't be a vice president or have a company car. You may even have to wear a uniform that doesn't have a designer label.
You are not entitled. 😀
No matter what your daddy says, you are not a princess.
No, you cannot be everything you dream…
If you think your teacher is tough, wait until you get a boss. He doesn't have tenure, so he tends to be a bit edgier. When you screw up, he's not going to ask you how you FEEL about it.
Your navel is not that interesting. Don't spend your life gazing at it.
Your school may have done away with winners and losers. Life hasn't.
Life is actually more like dodgeball than your gym teacher thinks.
After you graduate, you won't be competing with people who were raised to be wimps on the playground.
Humiliation is part of life. Deal with it.
You are not going to the NBA, so hold off on the bling and spare us the attitude.
Looking like a slut does not empower you.
Flipping burgers is not beneath your dignity. Your grandparents had a different word for burger flipping. They called it "opportunity."
Your parents and your little brother are not as embarrassing as you think. What's embarrassing is ingratitude, rudeness, and sulkiness.
Before you were born your parents weren't as boring as they are now. They got that way paying your bills, driving you around, saving for your education, cleaning up your room and listening to you tell them how idealistic you are.
Life is not divided into semesters. And you don't get summers off.
It's not your parents' fault. If you screw up, you are responsible.
Smoking does not make you look cool…it makes you look moronic.
You're offended, so what? No, really. So what?
You are not a victim.
Someday you may have to grow up and actually move out of your parents' house.
Batman's girlfriend is right: "It's not who you are underneath, but what you do that defines you."
Pi does not c what you thinarek.
A moral compass does not come as standard equipment.
Your sex organs were not meant to engage in high order thinking or decision-making.
Somebody may be watching.
Learn to deal with hypocrisy.
Zero-tolerance = zero common sense.
Naked people look different in real life.
Television is not real life.
Be nice to nerds. You may end up working for them. We all could.
Winners have a philosophy of life. So do losers.
If your butt has its own zip code it's not because McDonald's forced you to eat all those Big Macs. If you smoke, it's not Joe Camel's fault.
You are not immortal.
Being connected does not mean you aren't clueless.
Look people in the eye when you meet them.
People in black and white movies were really in color in real life. And no, the world did not begin when you were born.
Despite the billion-dollar campaign to turn your brain into tapioca pudding, try to learn to think clearly and logically.
You are not the first and you are not the only one who has gone through what you are going through.
Change the Oil.
Don't let the success of others depress you.
Your colleagues are not your friends and your friends aren't your family.
Grownups forget how scary it is to be your age.
Check on the guinea pig in the basement.
You aren't perfect and you don't have to be.
Tell yourself the story of your life. Have a point.
Don't forget to say thank you.
Enjoy this while you can.
Yo he destacado las que mas me han gustado. Elige tu tus 11 y compártelas con alguien, seguro que haces que aprenda algo antes de que la vida se lo enseñe.