Hola
El de hoy no me habia pasando nunca. Si, cierto, que he estado enredando mucho con las redes virtuales, creando y borrando muchas veces, pero esto es lo normal ¿no? 🙂
Problema
El problema es este al intentar administrar los switches virtuales desde la administración de Hyper-v y en Virtual switches manager: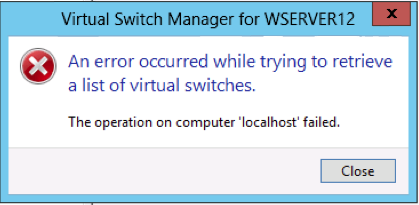 "an error occurred while trying to retrieve a list of virtual switches. The operation on computer ´localhost´failed"
Y no se arregla reiniciando.
Posible solución:
Microsoft nos cuenta que es un error conocido que se soluciona con un escript nvspscrub.js en
msdn.microsoft.com, que lo descargas y ejecutas…
…pero a mi no me ha funcionado.
 Mi solución
 …aunque drastica, efectiva: Des instalar el roll de Hyper-V y volver a crearlo. En la creación vuelve a generar los switches virtuales, de hecho hay un paso donde te pregunta si quieres crear alguno. 

… y las maquinas virtuales?
No os preocupeis las VM siguen estando tras la instalación, lo único que hay que hacer, es crear las redes y conectarlas a la red a la que estaban conectadas anteriormente. (menos mal)